Book launched october 17th!

"I lead with my heart and accept this journey of who I am, and know the adversity and gifts in my life have made me passionate about sharing with others."
For the last few months, I've been working with the best group of women, and we did something big…
We wrote a BOOK!
If that isn't exciting enough, that book has become a #1 Amazon Best-Seller in less than 24 hours!
Can you believe it? I'm now a published author.
It's important for me to be able to share my story from my heart to not only empower others and give them permission to be vulnerable in what they need, to show up unapologetically, and to live the best and most authentic life possible.

Join me in Chapter 22, where I discuss Ready or Not!, Hear I Come: Rising Above Your Comfort Zone For An Incredible Life.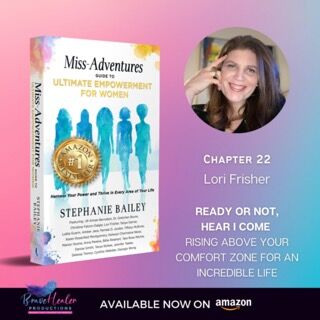 Chaper 22: Ready Or Not, Hear I Come!
If you love the book as much as I loved writing it, please share it with anyone in your life who you think would appreciate the beautiful world of empowerment.
I can't wait for you to read this!
Want to learn more? 
Check out the podcast below of a conversation between myself and fellow authors from the book.
Get Your Own eBook for Only $1.99! Paperback Copies are Also Available